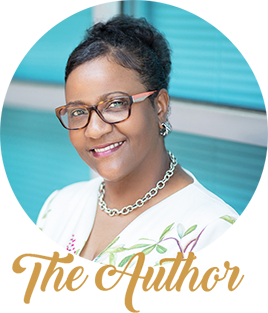 Dr. Nina Nelson-Garrett spent her formative years in Jackson, Mississippi, and completed a double major in Molecular Biology and Classical Studies at Vanderbilt University. She attended medical school at the University of Texas Health Sciences Center at Houston Medical School before completing a Residency in Internal Medicine and Fellowship in Gastroenterology at Emory University in Atlanta, Georgia. Nina is currently a partner in Capital City Gastroenterology in Montgomery, Alabama. She is married to C.W. Garrett and they have two adult children, Brittany and Donovan. She is active in her church and unashamedly loves God. She enjoys traveling with her husband, spending time with family, interior decorating, and painting. Grace Will Lead You Home is Nina's first novel.

Dr. Grace Wilson-Livingston is a superwoman—or at least that's what her husband Stewart calls her. Without skipping a beat, she juggles patients and promotions at the University of Tennessee Hospital and makes it to parent-teacher conferences for her young son and teen daughter. She does it all with no thought to slowing down.
But one day after an unexpected fall, Grace comes face-to-face with a future she never planned or thought possible. She is diagnosed with breast cancer. Suddenly, her life is turned upside down and she must navigate her fears of not knowing what lies ahead for her career, her family, and least of all, her health.
A week before her mastectomy, Grace drives home to Jackson, Mississippi to see the brother and sisters who have always looked to her as a source of strength. As she explores her childhood memories amid the ghosts of her reverend father and teacher mother—who fought, and lost, their own fights with cancer—she's forced to realize that maybe she doesn't have her life as perfectly handled as she once thought. After all, even Superwoman needs help sometimes—from family, from friends, and most of all, from God.
Dr. Nina Nelson-Garrett's, Grace Will Lead You Home, is an emotional journey through the unimagined and life-changing waters of breast cancer diagnosis.
R E V I E W
Must read. Heartfelt. Soul touching. As a hospice and primary care physician, I can truly identify with this story. You truly don't know what life is until someone tells you to have a diagnosis that may mean you don't have much time left. Your definition then changes from money and material things to the "opposite of death". Be vigilant about your God-given temple.
As a practicing oncologist, I have encountered innumerable women who have dealt with the struggle of breast cancer. Grace Will Lead You Home is a touching novel that addresses some of the realities of women's concerns at the time of the diagnosis. Nina has chosen to look at the short window in time of Grace's response to finding out the diagnosis and how to move forward. I witness, almost daily, the shock, the emotion, and the questions that were beautifully displayed in the portrayal of Grace Wilson-Livingston's response. I think this book will help many women and their families as they face those words, "I'm so sorry, but you have cancer." It will help so many with not just breast cancer but all types of cancers. I also would like to say bravo to Nina for taking on this task. Please pick up copies for family and friends.
Love this book! There are not many, if any, that have not been affected by cancer. If not in ourselves, then family, friends, co-workers, etc. This book acknowledges that such a life-changing event as this forces us to face our mortality and evaluate our lives and relationships. The author's main character, Grace Wilson Livingston returns home, 'going back where she started from' and is hit with the reality that while she has always been the one others rely on, the one that tells everybody to keep that stiff upper lip and God will get them through, maybe, just maybe, it is time for someone else to do the heavy lifting and let them encourage her. And most of all, continue to lean and depend on God. As I read this book I was reminded of the gospel songwriter's words, "These trials are just a test, just a test of your faith, so stand strong…… cause joy comes in the morning and everything is gonna be alright. Be encouraged." Great Read. When can we expect more?
I truly enjoyed reading this book! As the daughter of a breast cancer survivor, I can identify with Grace's struggles as well as those of the people who loved her. You have captured her emotions and fears and told her story with heartfelt eloquence. Thank you for taking us on this journey with her.
I loved reading your sweet book. I read it a couple times...and thought about it all week. I live with my Nana and we chance-met one of her former nurses at a restaurant. Lee Ann walked in wearing a turban and her face was so altered that I didn't know it was her. She sat near our table with her family and chatted away merrily, and from her voice, I recognized her. We ended up hugging and catching up, right there in the middle of the restaurant. On Christmas, she'd gotten the news that she had breast cancer and was now undergoing chemo. That encounter happened while I was reading your book and your characters were in the back of my mind as I encouraged her and processed that later. So thank you for writing it! I know it's going to encourage many, many people out there once they get the chance to read it--people in hospital beds too, and I can't think of a more important thing you can do other than encouraging them.
GET IN TOUCH!
Thank you, I will get back to you soon.
direct email:
Nina@gracewillleadyouhome.com